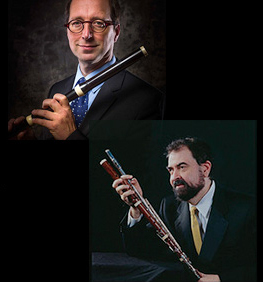 Jan de Winne & Michael Lynn: Il Flauto Traverso
Starts from: November 2, 2016
Start Time 7:00 pm
Jan de Winne și Michael Lynn present Wednesday, 2 November 2016, 19:00, at Palatul Bragadiru, the story "Il Flauto Traverso", together with "Il Gardellino", within the first concert series entitled  Early Music Winds, which will open the current edition of the Early Music Festival in Bucharest.
Artists
Jan de Winne teaches traverso, chamber music and treatise studies at Conservatoire National Supérieur de Paris and at Koninklijk Conservatorium Brussel. Having obtained his degrees in musicology and art history at the University of Ghent, he concentrated his studies on the Baroque flute under Barthold Kuijken. He has performed with many leading Early music ensembles (amongst which Il Fondamento, Salzburger Barockorchester, Amsterdam Baroque Orchestra) and took part in the orchestras under the direction of Philippe Herreweghe before founding the chamber music ensemble Il Gardellino with whom he has made numerous recordings (cantatas by Telemann, piano trios by J. Haydn, concertos by Boismortier, quartets by C.P.E. Bach, etc.). His experience as an instrument maker of both Baroque and Classical flutes provides him with an expertise on all the practical facets of the instrument.
Michael Lynn is a very well known teacher and instrument player, specialized in historical flutes performance. Michael Lynn performed for the inaugural luncheon for President Obama's first term and has given concerts throughout the United States, Canada, Taiwan, and Japan with Apollo's Fire, Mercury Baroque, ARTEK, Oberlin Baroque Ensemble, Smithsonian Chamber Players, Tafelmusik, American Baroque Ensemble, Handel & Haydn Society, the Boston Early Music Festival Orchestra, the Cleveland Orchestra, Houston Symphony, Cleveland Opera, Santa Fe Pro Musica, and many other ensembles. He teaches each year at the Oberlin Baroque Performance Institute and has taught other workshops throughout the country. Lynn previously taught at the University of Michigan, Oakland University, Case Western Reserve University, and at the Recorder Institute of Indiana University.
Context
The principle of blowing into a hollow pipe that is closed at one side is so simple that the flute is among the oldest musical instruments of humankind. Either they aligned the tubes of different lengths to make a difference in pitch and that became the 'pan flute' or they drilled holes in the pipe that can be opened and closed by the fingers. During the history of western music this evolved into a highly raffinated musical instrument and we will document briefly the 3 stages that are close to our culture: The cylindrical flutes with 6 holes ( middle ages and Renaissance) that were transformed during the Baroque Era into a conical flute with one key. This baroque flute had extra keys added in the last quarter of the 18th century to improve the equality of the tone and intonation. This system evolved towards complex fascinating flutes in the 19th century with 13 or more keys. And during this same 19th century the 'modern flute' was 'invented' in 1848 by Theobald Boehm. Before that Boehm already made a conical Boehm flute in 1832. He added a new key system and changed again for a cylindrical bore and experienced with metal flutes in silver, gold, and other combinations of metals. Jan De Winne and Michael Lynn will show and play all different styles of flute and will demonstrate the differences in sound and character through the ages. Each flute has his own story and tells us many things about how the music was performed in its lifetime. To begin with: the pitch. The standard pitch we use now ( a= 442 Hz) was not common and varied from 470 Hz ( halve a tone higher then now) til 370 HZ. ( more than a tone lower). Every town had its own pitch and there was a difference between 'Kirchenton and Kammerton': that means that mostly in the churches the organ was in high pitch and in the castles one would play at a much lower pitch. This has a huge influence on the sound quality: the higher the sharper and clearer, while a low pitch generates a much warmer gentle sound. Not only the pitch has changed over times. Also the way we divide the octave in equal or unequal halve tones: the temperament. Every sound had harmonics, that means, the tones that sound at the same time: one octave higher, one and a halve octave higher etc. These harmonics are not in equal temperament and interfere with the main note. It has been a long research during centuries to find a solution that is the most beautiful. The human ear recognizes very easily the beauty of a pure fifth and a pure third. To simplify: the early flutes have pure thirds incorporated in their tuning system, and the later flutes tend to be more and more equal. The final goal of Boehm was to make a mathematical calculation of the placement of the tone holes so that he could obtain a rational equal temperament on his instruments. Other characteristics that differ between all those generations of flutes are of course the tone colour, the projections, the articulation, the resistance of the embouchure – how hard or how soft do you have to blow to obtain a good sound. If it weren't that each flute seems to have an authentic soul of its own, it would not be worth discovering all those differences and we could all be pleased by a Yamaha flute! But we hope that after this concert you will all be convinced that the Odyssey of finding the right flute for the right music is a fascinating journey! (Jan de Winne).
Program
Jacob van Eyck (1590 – 1657) – "Malle Symen" for Renaissance flute
Jaques – Martin Hoteterre (1674 – 1763) – Suite in b minor for two transverse flutes (on two Rippert flutes, 392 Hz)
Johann Sebastian Bach (1685 – 1750) – Triosonata in g for two Baroque flutes, harpsichord and cello John Stanley (1712 – 1786) – Sonata in g for flute and continuo
Wilhelm Friedemann Bach (1710 – 1784) – Triosonata in e for two flutes
Wolfgang Amadeus Mozart (1756 – 1791) – Duet for two flutes (Excerpts from the "Magic Flute")
Ernesto Köhler (1849 – 1907) – "Valse des fleurs" for two flutes
Il Gardellino:
Jan De Winne: Renaissance flute, Baroque flute, Romantic flute
Michael Lynn: transverse flute, Romantic flute
Ira Givol: cello
Guy Penson: harpsichord, piano
Early Music Winds Concert Series propose the continuation of Early Music Strings mini-season in 2015. Known under the generic term "winds", wind instruments have accompanied the musical practice since antiquity. In the European "Early music" they are protagonists in solo or chamber recitals, offering great sonority to a baroque orchestra.
Early Music Festival Bucharest takes place between 1 to 28 November and includes three series of concerts and other events: Early Music Winds, a collaboration project with the ensemble Il Gardellino and support from Koninklijk Conservatorium Brussel, Movie Gala and Clavecinissimo, a project dedicated to raising funds for the restoration of the harpsichord Ruckers – Taskin and the Baroque Concerts series consisting of six concerts, held in three concert halls.
Tickets and passes are available in Eventim network (online or in Germanos, Orange, Vodafone, Domo, Carturesti, Humanitas stores) MyTicket (online or in Diverta stores) and www.kompostor.ro.
http://www.eventim.ro/ro/bilete/il-flauto-traverso-bucuresti-palatul-bragadiru-915632/performance.html